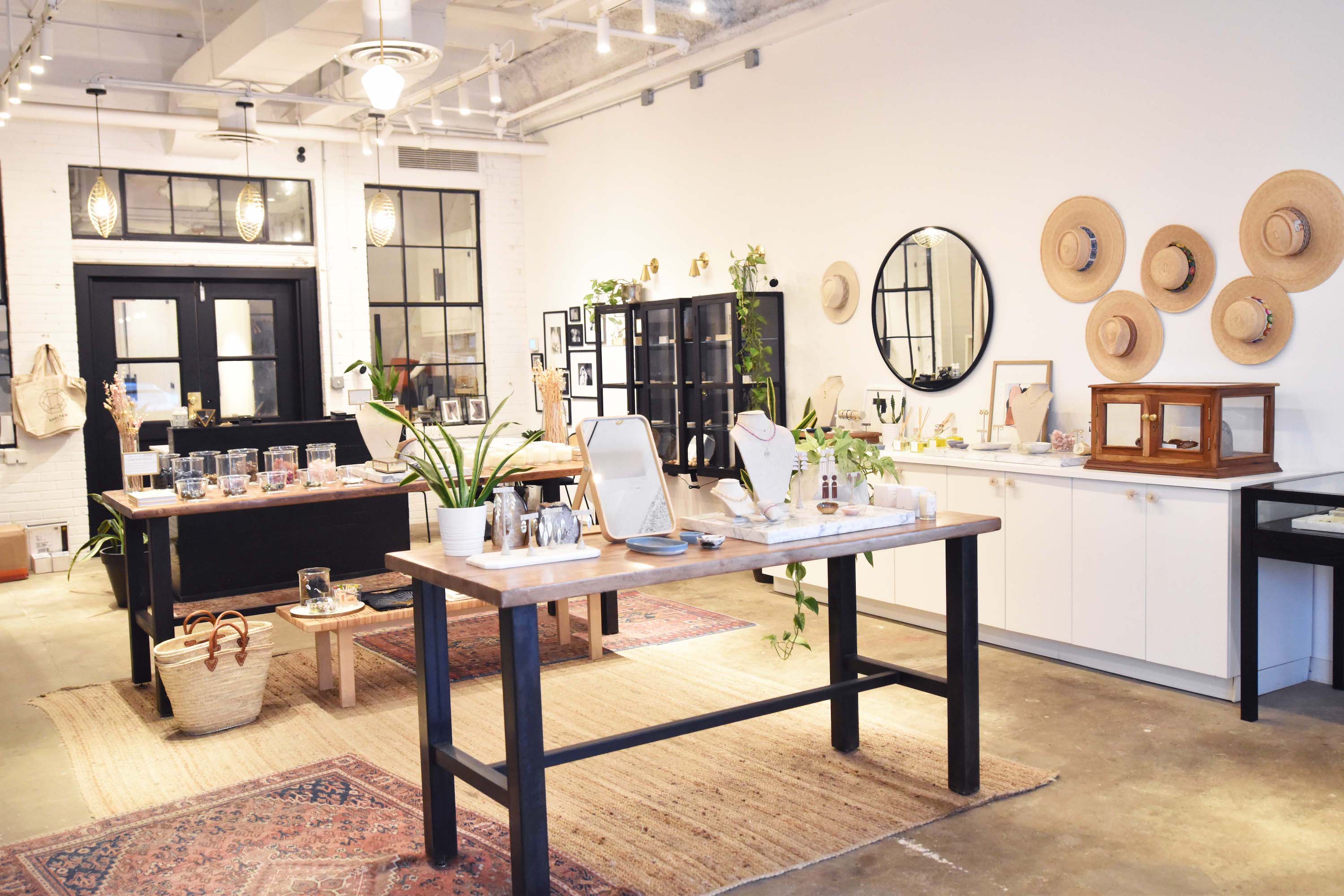 Lauren Herzak-Bauman of Lauren HB Studio
Lauren Herzak-Bauman is the maker behind Lauren HB Studio and creator of the ceramic goods we carry at the shop! Based outside of Cleveland, Ohio, Lauren crafts pottery and sculpture to elevate spaces.
How did you get started in pottery and sculpture?
I gravitated to pottery and throwing at first, switched to making sculpture, installation, and public art, then decided I needed all of it in my life about ten years ago when I officially launched Lauren HB Studio.
Did you always know you wanted to be a designer?
I have been making art as long as I can remember! And I always knew I wanted to be an artist. Or a dolphin trainer!
How long have you been in the trade?
My business is celebrating its ten year anniversary this year! I have been making things for decades.
What does your business look like now, versus when you started?


When I first launched Lauren HB Studio, I felt the need to keep all my different interests very separate. I would only show pottery at shows, for example, and had two different websites for pottery and sculpture. Now it's all under one roof on my website and I regularly lean in to all the different facets of my business. I even sell pottery and sculpture to stores, which is a great affirmation that I'm headed in the right direction. The nature of my work has changed greatly too. I used to design these very funky geometric pots and lately I'm going for more straightforward forms-ovals, squares, and circles. I also started to incorporate my drawing practice into a series of vases, mugs, cups, and trays called the Stria Series. I love following my intuition to see where it leads me and definitely see the connecting threads throughout the work and the years.



What's the most challenging part about being a designer?


The bigger my business gets, the more managing I do. I have four wonderful people assisting in all aspects of the business. We work great together, as long as I stay organized and keep lines of communication clear! I am so grateful to work with this talented group of humans and I owe it to them to provide a clear vision.


What's your favorite part about being a designer?

I love letting my mind wander and seeing what comes out. Sometimes an idea will hit and it will take a few years before it comes out of my hands and into clay! Sometimes I have to be very impulsive and get an idea out of my head and immediately into clay. That is the beauty and joy of being an artist.


Who is another designer that you admire or do you have a mentor in the industry?
Ahh there's too long of a list! I really admire Brian Hopkins' studio practice. He's currently researching how to make a porcelain clay body sourced entirely from clays found in the US. I also really admire Casey McDonough's commitment to his artistic practice. He's currently teaching K-12 and allows himself to be quite unbounded when he's making. Currently, I'm taking Holly Howard's Business Growth for Creative Entrepreneurs class. She is really wonderful at connecting seemingly non-business books to business. I've learned a ton, I'm growing, and I encourage anyone looking for a bit of guidance on how to grow to subscribe to her emails and even take a class.

Do you have a favorite piece that you have made?
I love our mugs so much! It's hard to find a good handled mug. There's a trend toward non-traditional handles and while they add so much aesthetic value, they aren't always the most ergonomic design. I think we make a really comfy handle. I'm told it feels like a hug. I also love our new dishes, named after your shop! The
Shelter Dish
makes us all so happy thinking about the tiny things we will put inside them!

Do you have a favorite material that you prefer to work with?


I'm currently in love with our nebula glaze. We apply an underglaze using a marbling technique and cover it in a clear glaze that likes to show crystal growth. The result is just this magical otherworldly surface.


What's your favorite piece of jewelry from your own personal collection?


I have a ring I recently got from Christy Klug that contains an enamel skull. It's like my own personal momento mori. Sometimes I turn the skull to face out and sometimes I wear it facing in.
Continue Reading
Similar Content
Meet The Designer: Elysian Theory
Elyse Tolles is the designer and creator behind Elysian Theory jewelry. Based in Annapolis, MD, Elysian Theory is a collection of sculptural, dreamy jewelry that turns every day into a special occ...
Read more