Meet The Designer: Elysian Theory
Elyse Tolles is the designer and creator behind Elysian Theory jewelry. Based in Annapolis, MD, Elysian Theory is a collection of sculptural, dreamy jewelry that turns every day into a special occasion.
Q: Swans, shells, and bows, there are so many beautifully feminine and slightly Victorian references. How did you become interested in that era? How do you make it feel modern and fresh?
A: For as long as I can remember I've been very drawn to a quintessentially feminine style, as well as anything "old fashioned" — I'm kind of a magpie when it comes to collecting trinkets from antique shops. Something about being surrounded by curios and nonessential pretty things has always held a great attraction for me. There's vulnerability in curating and displaying decorative objects, it's almost like showing off little pieces of your soul, and the Victorians were all about eclecticism and sending messages of personal expression through unique design. Think mourning jewelry made from the woven hair of a deceased loved one, "lovers' eye" portraits, and spelling out acrostic secret messages using gemstones. A lot of Victorian-era jewelry resonates with me on a deep level, and I find it not only aesthetically beautiful but emotionally compelling.
Eclecticism and taking inspiration from various other design periods was another hallmark of the Victorian era, and I think infusing wearable jewelry of 2023 with some old-world charm mostly comes down to… allowing very different influences to coexist and meld, without feeling a need to force everything to be too stylistically "cohesive" and matchy. I absolutely love the botanical and naturalist symbolism that was popular during the Victorian era, including the secret language of flowers and animal motifs (I'll put a swan on anything), but I also love some of the very popular recent jewelry trends like chunky paperclip chain charm necklaces and pearls on everything. Honestly, a lot of what's trendy now lends itself really well to Victorian era influence!
Q: How does your background in music inform and influence your work?
A: At times I've definitely lamented about the fact that I don't have a background that includes a formal education in design or metals, or felt self conscious about being a self-taught jeweler — but ultimately I think that anyone who has gone through significant career shifts in their life has the choice between either falling into a "grass is always greener" mentality and feeling like their time was wasted, or conversely, viewing their previous experiences as a way to bring valuable new perspectives and multifaceted insights to whatever they choose to do. Going from one artistic field to another, there was quite a bit of natural crossover, and making jewelry began as something that felt like a "creative outlet from my creative outlet" while I was in graduate school for music performance. Both pursuits involve a lot of attention to detail and a high degree of physical skill working with your hands. As a musician, you accept very early on that the only way to achieve that level of mastery is by getting into the habit of repetitive practice. I also feel like being a performing musician taught me the value of presentation — one of my professors used to say that "people hear with their eyes." The importance of how things are visually presented can't be overstated.
Q: What is it like working with jewelry and then also designing your own jewelry line? Have there been any noteworthy lessons, inspiration, times you've gotten to share your knowledge, or collaborations?
A: In a lot of ways it feels like I've kind of come full circle, because I grew up in the environment of a custom fine jewelry store where my mom worked first in sales and then eventually as a GIA certified diamond grader. The fascination with jewelry kind of blossomed from those early experiences, but then I spent so many years focusing on music before finally coming back to the world of jewelry as a career. I feel like I get to appreciate and play with jewelry from every angle now, and that each perspective informs the others — I love seeing the variety of beautiful pieces from different designers at Shelter and getting to share that enthusiasm with customers, watch their reactions and hear their opinions, and I also love the work that I do as an assistant for a jewelry appraiser, which has involved learning a ton of stuff about estate and antique jewelry. And then, of course, I get to design and make my own line of jewelry drawing inspiration from these other experiences.
Q:What's inspiring you right now? Do you have a favorite piece in your current collection that you'll have at the trunk show? Or is there something else you're excited to explore in the coming months?
A: As you could probably tell by now, I've been pretty obsessed with antique Victorian jewelry lately! The concept of floriography, or the secret Victorian language of flowers, was a big inspiration for my recent Secret Garden collection. In particular I became enchanted by painting pansy flowers before I even learned that pansies were an incredibly popular design motif in Victorian jewelry. They were used to communicate a message of "I'm thinking about you" and often symbolized shared thoughts between lovers. You'll definitely see some pansies at the trunk show.
I've also been experimenting and pushing the boundaries of what I've personally done, or seen anyone else do, with combining the processes of wax carving and lost wax casting, sculpture with moldable mediums like polymer clay, painting, and stone setting. A lot is still in progress. Polymer clay was my only jewelry medium for many years before I learned any metalsmithing, and I've been reluctant to transition away from it entirely. It's been a fun challenge to work on integrating multiple mediums that aren't normally paired together while still keeping my designs aesthetically aligned with what feels like "Elysian Theory."
Continue Reading
Similar Content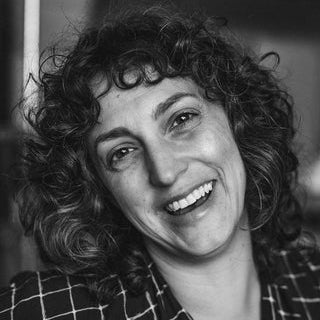 Lauren Herzak-Bauman of Lauren HB Studio
Lauren Herzak-Bauman is the maker behind Lauren HB Studio and creator of the ceramic goods we carry at the shop! Based outside of Cleveland, Ohio, Lauren crafts pottery and sculpture to elevate spa...
Read more