Meet the Designer: Khadijah Fulton of WHITE/SPACE
Khadijah Fulton is the designer behind the minimalist pieces of
WHITE/SPACE
. She strives to create the most sustainable and responsible pieces for consumers. Each piece is designed with modern women — "all gorgeously complex individuals and an endless source of inspiration" — in mind. We caught up with the LA-based designer to chat about her career in jewelry.
How did you get started making jewelry?
I've always been creative and wanted to be a designer since I was 11. I pursued my dreams at Parsons School of Design, and after graduation went on to design in the fashion world for almost a decade. Making jewelry was a weekend hobby I picked up during this time. After I had my first child (I now have 2!) and was taking a break from working to focus on motherhood, I found a renewed creative passion in learning goldsmithing, stone-setting, and everything related to creating jewelry with my hands. I enrolled in weekend workshops, night courses, and practiced in my garage during my little one's naps and whenever I could get little snatches of time to practice all of the techniques I was learning in working with metal and gemstones.
Did you always know you wanted to be a designer?
Yes, since I was a child. I used to hand sew clothes for my dolls and was OBSESSED with fashion. In fashion magazines and the few shows that covered fashion when I was a kid I saw a world of freedom and creative expression that was full of possibility and exploration, and where I felt I could belong. As a kid I had very different, eclectic tastes, and always felt like a bit of a misfit — especially as a Black girl in the south. When I got to design school I realized that is just how creative people often are — we march to the beat of our own drum — and that is a special gift worth developing. I didn't see many Black faces in fashion, but the few I saw were all I needed to lean in to my creativity and ambition (thank you Naomi and André Leon Talley!)



How long have you been in the trade?


I've been working in fine jewelry since 2014.


What does your business look like now, versus when you started?


Right now I'm in a beautiful period of growth, having become more than a 'one-woman-show' in the last year. I used to make almost every piece myself, as well as sales, packing/shipping, website development — all of it! I now have a small in-house team as well as various individual artisans and independent contractors that help me in the areas of production, sales, and marketing.


What's the most challenging part about being a jewelry designer?
Right now I think the challenge is the same for many creatives of different disciplines — the internet has made it vastly more accessible to get your message and work out into the world in a way, but it has also made the world a very loud and distracting place. So balancing the needs of building a business with also trying to continue to develop your own unique creative voice that will cut through all of the noise and reach those with whom your work resonates the most is very challenging, especially as a small self-funded business. The challenging thing that is unique to jewelry is the exceptionally high cost of creating the pieces, from materials to the specialized labor necessary to execute the finishing, stone setting, etc.


What's your favorite part about being a jewelry designer?

My favorite part about designing jewelry is the privilege of utilizing the personal joy I get in the design process to create pieces that build emotional connections and symbolize special sentiments, emotions and memories. Jewelry can really be a way to wear our personal journeys and stories with us everyday, particularly jewelry made with fine materials like gold and natural gemstones. Each piece, whether it's a gift given or something we buy for ourselves, has the power to hold a special moment and maybe even pass that history/memory down to another loved one. It's that manifestation of human connection that is the greatest reward of being a jewelry designer.


Who is another jewelry designer that you admire or do you have a mentor in the jewelry industry?
I have recently had the fantastic opportunity to be mentored by Pamela Love, whose work I have long been a huge fan. I admire the way she really developed her own signature style and has grown and evolved her business over many years in the industry.


Do you have a favorite piece that you have made?
The latest piece I've designed is always my favorite.
Do you have a favorite metal or stone that you prefer to work with?
I LOVE working with yellow gold and am looking for opportunities to expand into higher karat gold to explore the richness of the higher karat yellows. They are just soooo yummy and remind me of how humans have been adorning themselves in gold for millennia.



Do trends in the industry affect the way you design a new collection?

Sometimes I get excited about something happening in jewelry, but more so in the fashion, art, and design world in general. I tend to look to other disciplines for inspiration and get a feel for what's bubbling up, or 'in the air' at the moment to see if anything resonates with my own sensibilities.

What's your favorite piece of jewelry from your own personal collection?

My favorite piece of jewelry from my personal collection is a set of two strands of Chinese Porcelain beaded necklaces from my late grandmother Beatrice's collection. She had a wide variety of jewelry, and her tall jewelry armoire full of treasures left a huge impression on me as a child. She wore these necklaces very often. I love that they remind me of her, and also are a very different style than what I typically design for White Space.

Continue Reading
Similar Content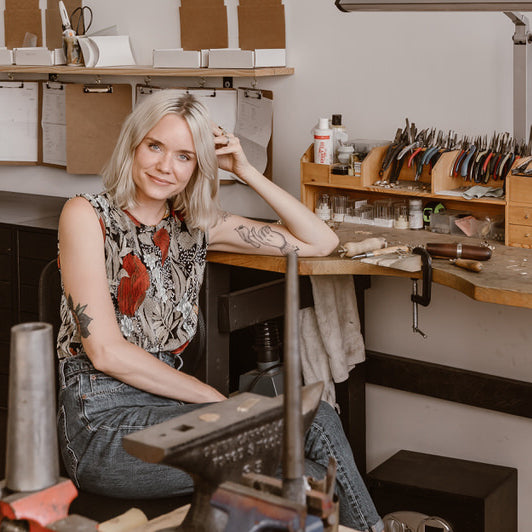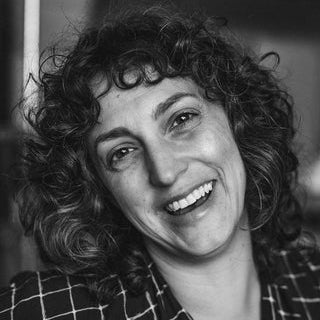 Lauren Herzak-Bauman of Lauren HB Studio
Lauren Herzak-Bauman is the maker behind Lauren HB Studio and creator of the ceramic goods we carry at the shop! Based outside of Cleveland, Ohio, Lauren crafts pottery and sculpture to elevate spa...
Read more