materials
Metals
You've chosen a diamond or alternative stone, and landed on the design. But now comes the question - what metal should you choose? With many different options, it can be hard to choose what's best or most appropriate. While color is a huge factor, lifestyle, durability, and budget should also be considered. We've broken down the different types of metals we offer below.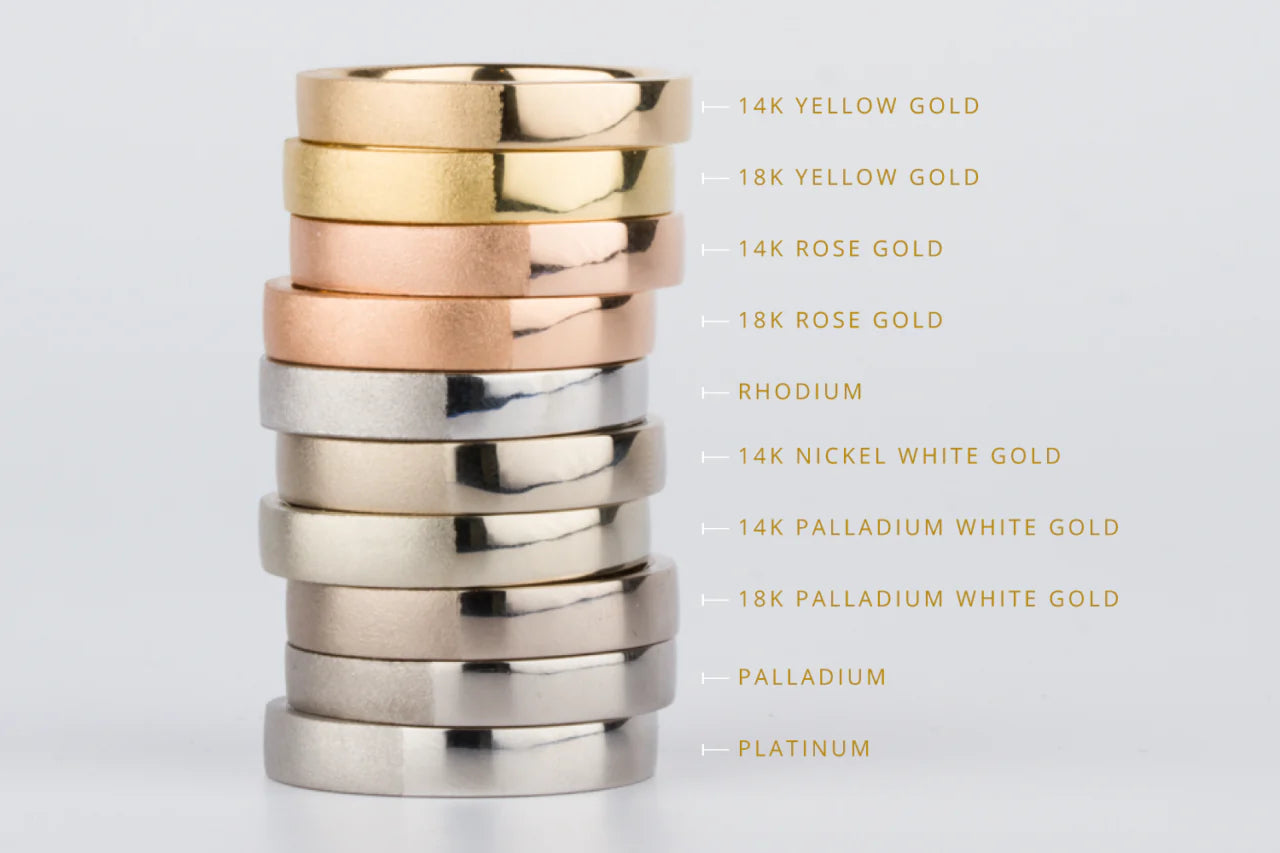 Types of Metal
Gold
Pure gold is too soft for everyday wear, so gold is mixed with other metals such as silver, copper, and nickel to make it more durable (these are known as alloys). This is noted through the karat (the letter "K") and color of the metal. Karat is measured in 24ths, and 24k gold is 100% gold. We work with 14k and 18k gold. 10K is commonly found in vintage and antique pieces, but is usually not found in today's engagement and wedding jewelry. 14K has a soft, more muted color - we recommend 14K to people who are extremely active or work heavily with their hands, as it can hold up a bit better to every day wear and tear. 18K comes with a higher price point and has a richer hue.
Platinum
Platinum has a natural silver-grey color, which makes it a popular alternative to white gold, especially for those who have metal allergies. Platinum does not require rhodium plating, and will maintain its color over time.

Yellow Gold
Yellow gold is a timeless shade, and our most popular metal. It's durable, easy to wear, and a rich, warm hue. You can't go wrong here! Alloys with a higher karat number (like 18k) have a higher gold content, meaning the color will be yellower.

Rose Gold
Rose gold is an alloy of yellow gold and copper. Rose gold is measured the same way, and has the same gold content as yellow gold. It is slightly stronger than yellow and white gold due to the copper added. 

White Gold
White gold is an alloy of yellow gold and nickel. White gold can be a bit more complicated, as there are several options to consider! The main factors of white gold come down to metal allergies (people with nickel allergies tend to have reactions to white gold), budget, and maintenance. True white gold has a warm, silvery hue. It does become warmer/more yellow over time. Many people choose to rhodium plate white gold, which gives it a bright, true silver color. This is inexpensive, but does require annual maintenance and some upkeep. All of our white gold jewelry is rhodium plated unless otherwise requested.

Platinum
Platinum has a natural silver-grey color, which makes it a popular alternative to white gold, especially for those who have metal allergies. Platinum does not require rhodium plating, and will maintain its color over time.

Platinum is sturdier than white gold, which makes it a great metal option for people who can be hard on their jewelry. It develops a nice matte patina over time, and can be repolished easily. It is the most expensive of the precious metals, which should be factored in to your overall budget for a ring.
Need help?
Frequently Asked Questions
Great question, but hard for us to answer! It really comes down to budget, lifestyle, and color preference.

Color preference is fairly self explanatory - we recommend looking at the other jewelry you wear and seeing if there is a commonality there.

For budget, this is how much you want to spend on the setting. 14k metals will be the most budget friendly, 18k is slightly more, and platinum is the most expensive.

Finally, consider lifestyle. If you are very hard on your hands and rough on your jewelry, 14k or platinum is a good option as it is more durable. If you remove your jewelry often and are more delicate with what you wear, 18k can be considered (it is softer than 14k).
White, yellow, and rose gold all get their colors based on the alloys with which the gold is mixed. Rose gold contains a copper alloy, whereas white gold is alloyed with nickel. A quick note - if you have a nickel allergy, white gold should be avoided!
14K GOLD

Durability: Less prone to scratches, scuffs, and bending overtime compared to 18k. If you're super active, we say go with 14k. 
Color: 14k often looks a bit more "softer" compared to its 18k counterpart. It won't be dull by any means, but it doesn't have as saturated of a color
Budget: 14k gold is less expensive than 18k

18K GOLD

Durability: A bit more prone to wear-and-tear. You'll likely notice 18k scratches a bit easier as it is a softer metal 
Aesthetic: Warmer white and yellow gold, and peachier rose gold
Budget: A bit higher cost due to higher gold content
We can! But it depends on a few things. First, we cannot turn one color gold into another color (ex. if you have white gold jewelry but would like a yellow gold piece, we would not be able to reuse your metal in this way). Second, we cannot make one type of karat into another (ex. we can't use your 10k gold in a 14k piece). Finally, with any piece that we're reusing metal in, we do need to add new gold to maintain karat quality. That paired with additional labor, the pricing is usually comparable to using new gold in a piece.