The Ins And Outs Of Resetting Old Jewelry
We often get asked if we reset old jewelry - the answer is a resounding YES!
A few commonly asked questions we get:
Why repurpose an heirloom stone?
Resetting a stone gives sentimental pieces a contemporary, wearable, and unique-to-you design. Redesigning or resetting is meant to create a worn reminder and future heirloom piece. Plus, it's a great way to recycle old jewelry!
Is it worth it to reset old jewelry?
The short answer is, it's really up to you! Most of the projects we do are for sentimental reasons, which you can't put a price tag on. If resetting a stone makes you happy, prevents it from collecting dust, and allows it to shine in a new setting, then yes!
What types of projects do you do?
Some of our recent heirloom projects include resetting a heirloom diamonds into engagement rings, taking a pair of sapphire earrings given as a graduation gift and turning them into a stacking ring, pulling diamonds out of an old brooch to create pendants for several family members, and melting down a baby ring to create a new ring.
Do you melt down or reuse old metal?
If you're not sure what to do with your old setting, we can recycle this metal for you and remove the scrap value from the overall cost of the piece. If you're looking to incorporate existing metal into your new piece of jewelry, we can melt down the pieces you have (this is usually the original setting we are pulling stones out of) and incorporate it into the new design. When using existing metal, additional labor and the addition of new gold to maintain the karat integrity of the overall piece can often increase the cost of the project. For this reason, we usually recommend scrapping or recycling your old metal if you are looking for cost saving measures, and melting your metal into a new piece if you like the idea for sentimental reasons. 
What happens to my old settings?
As explained above, the most common use of an old setting is to scrap the metal. If you're not ready to commit to melting down your old settings, we're happy to send you home with the metal after we've collected the stones from the piece.
When should I not remove stones from a piece?
You shouldn't remove stones from a piece if you're not 100% committed to an heirloom redesign. Depending on the condition of your stones, it may be challenging to put them back in the original setting. Something else to consider is the type of piece - occasionally we see some really stunning older pieces of jewelry that simply can't be recreated. For that reason, we usually advise keeping the piece in tact to maintain the original integrity and craftsmanship. Finally, consider the type of stone you're wanting to remove. As a general rule, we will not remove ​​pearl, emerald, opal, tanzanite or turquoise due to the fragility of these stones.
Can I add additional stones into a new piece?
Absolutely! Whether you're looking for a modern toi-et-moi ring or cluster style setting, we love sourcing new stones for heirloom redesigns. If you're looking for additional diamond side stones for a three stone or cluster style setting, our team will find the best fit once the design has been finalized. Looking for a larger diamond or gemstone addition? We'll find an array of options and you can select a few of your favorites to view in-person at our shop.
What's the difference between an heirloom redesign and an heirloom reset?
A redesign is a fully custom project where you work one-on-one with the Shelter team. We recommend that clients come into this type of project with an open mind and concede some of the finer details, such as prong size and band width, to our design team. Throughout the process, you will be able to see renderings of the design and even receive a wax model of the final piece. A reset is our "plug-and-play" option. We have a collection of settings that you can select from on our website. In order to keep the cost of reset accessible, we do not offer modifications on these designs.
Can I melt yellow gold and recycle it into a white gold piece? Or vice versa?
Unfortunately, you can't turn one color of gold into another color. Yellow, rose, and white gold are all mixed with different elements to give them their respective hues, so we can't recycle one into another
Can I recycle 22k gold?
We don't recycle 22k gold pieces. 22k gold is a purer form of gold than 18k or 14k, and therefore is a much softer metal that is prone to scratch and bend.Therefore we don't recommend it for everyday pieces! 
Continue Reading
Similar Content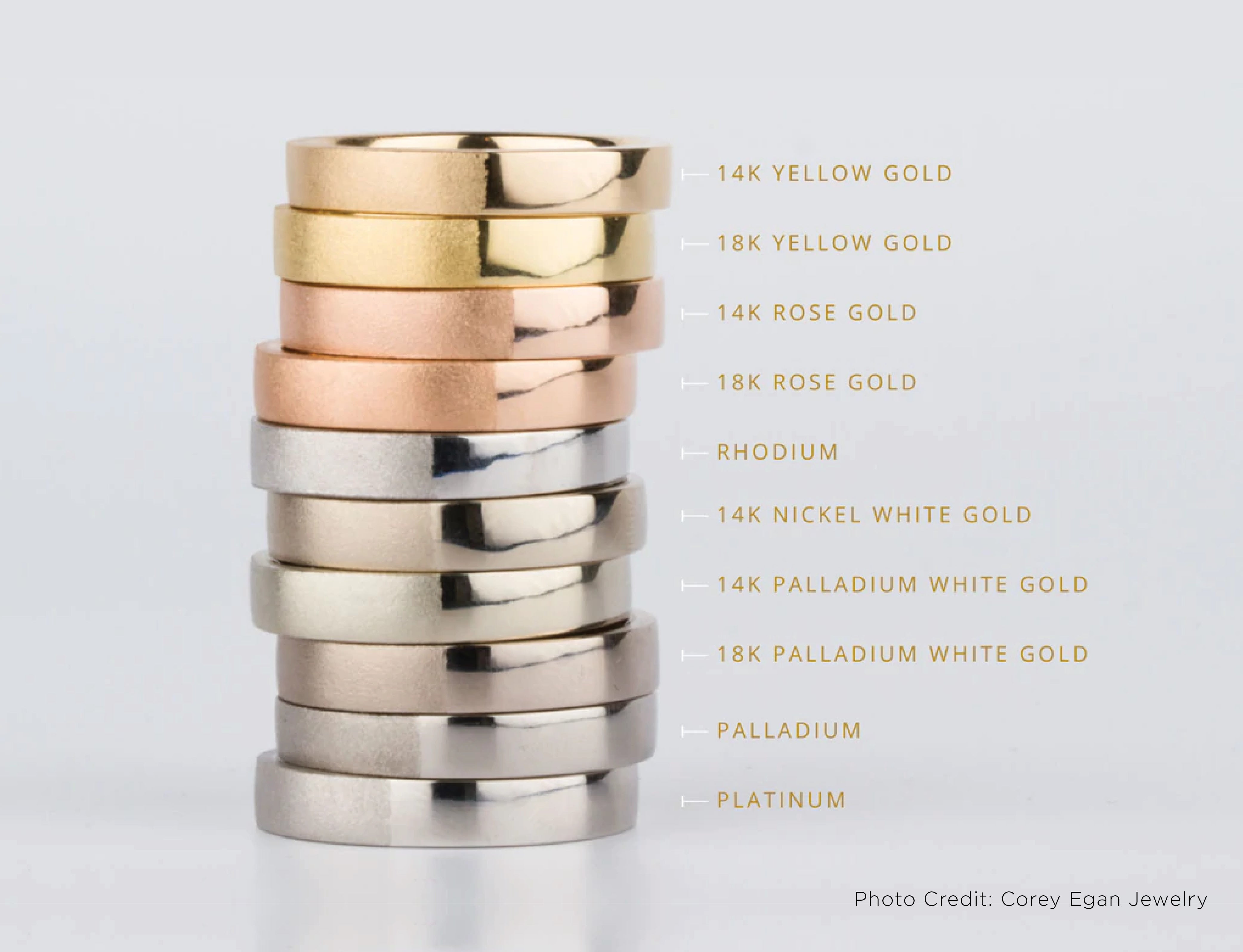 Comparing Karats: 14k vs 18k gold
One of the decisions you'll make when choosing an engagement ring — or any piece of jewelry  — is if you want to wear 14k or 18k gold. What's the difference? So glad you asked. We don't believe in ...
Read more